Hi Loves,
This past week was WMCFW in Toronto! The events were great, the shows were even better. Being around the fashion, the sunglasses of front row, and the crowd was inspirational... and a little perspirational. The runways were booming with hot new designs from Canada's own talents. From Bustle to VAWK, you could feel the talent oozing from backstage to front of house!
@anurainadesigns
#fall2014
#WMCFW
However, as a veteran fashion week attendee, I have come to realize... there has got to be more! The crowd, designs, and media were all so impressive but, attainable. I couldn't help but think, where do we go from here. Yes, the fashions were out of this world, but after sitting with my peers and watching the camera phones go off, I couldn't help but think.... how much did this all cost? And, my internal voice was screaming, "OMGosh... Am I over it?"
So, as most of you know, I did some traveling this past year across the globe, and realized, "Damn... there has to be more than fashion!"
Thus, I found a way to incorporate my love of fashion with something that could go beyond the runway, it's Free The Children's, Me to We. The Me to We site incorporates all that you love from the runways, while helping to those in need. It rhymes, it's fun, it's still shopping, but on the upside you are supporting the GLOBE!
So, get inspired and get shopping, because this marketplace feeds a village!
SHOP NOW at metowe.com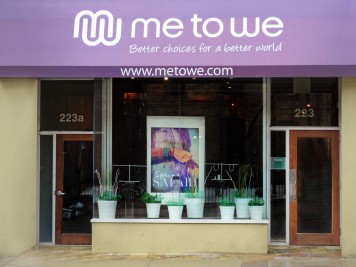 Store: 223 Carlton St. Toronto, ON, M5A 2L2 P: 1.416.964.8942 x601
xo Brit Sammy.
WMCFW Images by WMCFW Instagram.
Free The Children, Me to We, Images by metowe.com.